Happy Summer!
Drop in on Tot Classes
July Hiatus
Smart Sandbox Solution Praised
Grant Submitted for Sanchez Outdoor Classroom
Audition for RecPark Idol
Beware the Birds
Advocacy Alert: More Gardeners & Patrols for our Parks
Volunteer Opportunities
---
Looking for something to do with your tot at ten? Drop by Baby & Me classes, and for $4 your child will have a dance-filled hour.
The classes are from 10 to 11 a.m., Monday to Friday. It is suggested that children 18 to 36 months attend Monday, Wednesday and Fridays and those ages 3 to 5 go on Tuesdays and Thursdays, but the instructors are flexible.
Our tot auditorium is closed for the summer to make room for the Pacific Art Camp, but two nearby recreation centers will pick up the slack:
The Bernal Heights Recreation Center, 500 Moultrie Street (415-695-5007), has a tot room that is open except during class times on Wednesday and Friday mornings from 10 to 11:30 a.m. The Eureka Valley Recreation Center, 100 Collingwood Street (415-831-6810), has a tot room that will be open from 9 a.m. to 7 p.m.
There will be no tot concert, no Ladybug Gardeners and no Community Recreation Council meeting in July.
Come the second Saturday in August, we will return to our usual time for the Saturday tot concerts, from 9 to 11 a.m.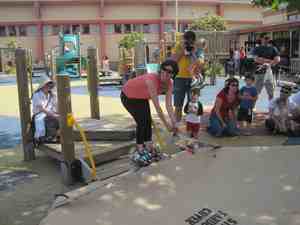 Smart Sandbox Solution Praised
District 8 Supervisor Scott Wiener was on hand April 16 when we cut the ribbon on our new sandbox cover, which is fitted to thwart cats seeking an outdoor litter box.
Wiener applauded the efforts of Karen Spira, a member of Upper Noe's Community Recreation Council, who came up with this solution. He noted that Eureka Valley Recreation Center has had to close its sandbox.
Kristin Bowman, a manager for the Recreation and Parks Department, said she will monitor the success of our cover and roll out the idea to other rec centers if it works well. Thanks, Karen!
The cover will be stored in an outdoor cabinet during rec center hours, and it will cover the box for the rest of the time. Please help keep the sandbox covered at the appropriate times.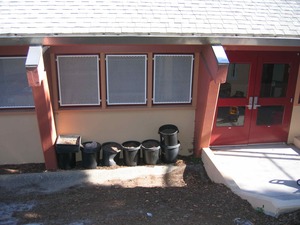 Grant Submitted for Sanchez Outdoor Classroom
The Friends of Noe Valley Recreation Center have submitted our application to renovate the Sanchez Street side of the recreation center.
We're asking the Recreation and Parks Department's Community Opportunity Fund for $250,000 to create an outdoor classroom adjacent to the site's kitchen.
An outdoor classroom would augment Upper Noe's popular cooking classes and allow for the addition of gardening classes. The space could also be used for outdoor art, dance and drama.
We'd also like to make the patio outside the lobby doors into something comfortable and inviting. It could be a great place for birthday parties, too.
We owe a huge debt of gratitude to landscape designer Michael Ingram and Steve Werney of Teutonic Construction Inc. (Check out pictures of Teutonic's remodel of Noe Valley's famed "Engine Number 44" firehouse.) These two professionals donated their time and expertise to make the grant plausible and sensible. Thanks!
Grant winners will be announced in September.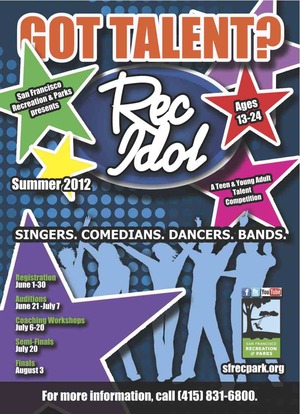 The Recreation and Parks Department is hosting its own spinoff of American Idol this summer, with competitions for singers, dancers, comedians and band members ages 13 to 24.
Auditions for Rec Idol will run through July 27 at recreation centers across the city. All who try out will be eligible for coaching workshops that run July 6 to 20. The semifinals will be July 20, and the final competition will happen August 3. Prizes include cash and recording studio time at the Harvey Milk Center.
You can find registration forms here. Find audition locations by calling 415-831-6800 or texting 415-205-5971.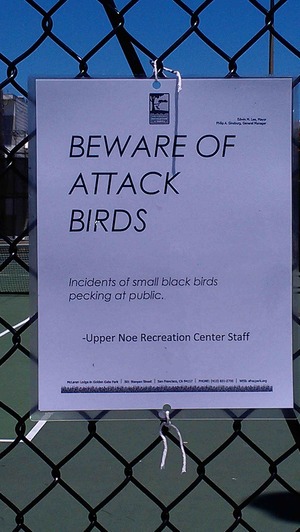 Has your hair been attacked by a bird lately?
Small birds assumed to be starlings are nesting this time of year, making them bold and protective when it comes to their babies. Residents around the city report being sideswiped by these little frenemies. So keep your eyes open for diving birds, stay calm and enjoy the Hitchcock-like signs.
Advocacy Alert: More Gardeners & Patrols for our Parks
A note from Matt O'Grady, Executive Director of the San Francisco Parks Alliance:
Supervisor Scott Wiener is spearheading an effort to augment the Recreation & Parks Department budget for the coming fiscal year with funding to pay for five more gardeners, as well as four more park patrol officers to help thwart graffiti and other vandalism in our parks city-wide.
Vandalism is the most problem reported in our parks, and these new patrol officers and gardeners are the best way to address it. The new funding would total about $750,000. You can help support this excellent move by contacting your Supervisor immediately with a message in support of the additional funding for Recreation and Parks.
A contact list of the Board of Supervisors follows for your convenience. Please copy policy@sfparksalliance.org to help us track this advocacy.
Eric Mar, District 1 (415) 554-7410 – Voice (415) 554-7415 – Fax Eric.L.Mar@sfgov.org
Mark Farrell, District 2 (415) 554-7752 – Voice (415) 554-7843 – Fax Mark.Farrell@sfgov.org
David Chiu, District 3 (415) 554-7450 – Voice (415) 554-7454 – Fax David.Chiu@sfgov.org
Carmen Chu, District 4 (415) 554-7460 – Voice (415) 554-7432 – Fax Carmen.Chu@sfgov.org
Christina Olague, District 5 (415) 554-7630 – Voice (415) 554-7634 – Fax Christina.Olague@sfgov.org
Jane Kim, District 6 (415) 554-7970 – Voice (415) 554-7974 – Fax Jane.Kim@sfgov.org
Sean Elsbernd, District 7 (415) 554-6516 – Voice (415) 554-6546 – Fax Sean.Elsbernd@sfgov.org
Scott Wiener, District 8 (415) 554-6968 – Voice (415) 554-6909 – Fax Scott.Wiener@sfgov.org
David Campos, District 9 (415) 554-5144 – voice (415) 554-6255 – fax David.Campos@sfgov.org
Malia Cohen, District 10 (415) 554-7670 – Voice (415) 554-7674 – Fax Malia.Cohen@sfgov.org
John Avalos, District 11 (415) 554-6975 – Voice (415) 554-6979 – Fax John.Avalos@sfgov.org
---
---
• Serve as a greeter for the free concerts. The Friends of Noe Valley Rec Center need a "friend" to help us greet families during our monthly free concert. Let them know about our mailing list and introduce them to our small group. Our greeters hand out flyers and accept donations for the concert series. The next opportunity will be August 11 from 9 a.m. to noon. Even volunteering for one hour would make a big difference!
• Help advise the city on what classes should be offered at the Upper Noe Rec Center. Serve a term on the Upper Noe Recreation Center's Community Recreation Council and help shape programming at the Center. A teen member is still needed! Please contact Cheryl Woltjen at 970-8061. The form is available on our website and at the center. Please either drop it off or mail it to: Cheryl Woltjen, UNRC, 295 Day Street, SF, 94131.
• Distribute our new Friends of NVRC postcard. This newsletter is distributed to nearly 1,000 "friends." Make sure interested neighbors know about our group by helping distribute our informational postcard around the neighborhood. Please email molly (at) noevalleyreccenter.com if you know of a good shop or cafe to distribute the postcards. Or you could help put them somewhere frequented by park users.
• Lead a new event. Are you interested in organizing a new event at the Center? Maybe a game night or movie night? Please let us know.
• Garden at the Park. Help keep the park beautiful by volunteering with the Ladybug Gardeners on the second Saturday of every month. All ages welcome, no experience necessary. Even an hour would be a big help! Please contact us at info (at) noevalleyreccenter.com.
---
Outside the Center:
July 18
7:30 p.m.
St. Philip's Church 725 Diamond Street at Elizabeth
This special meeting co-hosted with Friends of Noe Valley will feature the Regional Director for the U.S. Department of Health & Human Services, Noe Valley resident Herb K. Schultz. Mr. Schultz will focus on the Affordable Care Act and related issues.
He will answer questions on topics within his purview. This will be a great opportunity to talk to a top official at a federal agency in our region on a subject that is important to all of us.
Please note that this meeting location as well as the date being the third Wednesday of the month is for this meeting only. We will be back on regular second-Wednesday schedule at the Upper Noe Recreation Center for future meetings.
---
Thanks for your interest and support of your park! Please contact us with any questions or suggestions. Let us know about any community events you are planning at the park so we can promote them. Please forward this newsletter to your friends and neighbors who use the Noe Valley Recreation Center. We want this newsletter to help build the park community — please help us connect with members of the community.
Enjoy your Park!
Molly Sterkel (molly@noevalleyreccenter.com)
Friends of the Noe Valley Recreation Center
Friends of Noe Valley Recreation Center  www.NoeValleyRecCenter.com