Back to School, Back to Sports
Register for Fall Classes
Free Elementary School Fair
Tot Free-Play is Back
Fresh Sand in the Sandbox
Volunteer Opportunities
---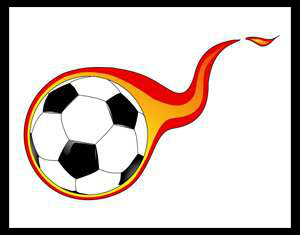 Register for Fall Classes
Registration for fall classes starts Saturday, August 4 at 10 a.m., and Upper Noe will have a variety of programs for all ages.
Under fives will have no fewer than 17 options, including Petite Bakers on Tuesday and Wednesday mornings and Baby and Me on Friday mornings. This age group is being offered five soccer classes—indoor and out—including one team that will play in the park department's soccer league.
New this term will be Friday afternoon Combat Athletics for kids ages 7 to 10 and 11 to 13. In this class, children practice mixed martial arts while strengthening their self-esteem and self-discipline.
Upper Noe's fall schedule is heavy on tennis lessons for all ages due to popular demand, said Facility Coordinator Cheryl Woltjen.
Adults also have their pick of other fitness classes: low-impact workouts, a core stability and balance class, Muay Thai kickboxing, Pilates and Yoga. Senior Tango is back on Thursday afternoons.
Fall is broken into two terms because it's so long, said Woltjen. That gives recreation centers the flexibility to add shorter programs. For example, a new Saturday afternoon wrestling class for 6- to 12-year-olds, Camp Grapple, won't start until October 20.
First-session classes start the week of August 20, with the second session ending December 31. You can view the department's Fall Activity Guide here.
To see course offerings at Upper Noe specifically (or any one recreation center), go to www.sfreconline.org and click the "Browse Programs" tab. Go to the bottom of the lefthand column and choose "Advanced Search." Select all courses. When the listings pop up, you will be given an option to narrow choices by facility.
You can also register onsite starting the morning of August 4. Credit cards accepted. Scholarships are available for those who qualify. Visit the department's scholarship page.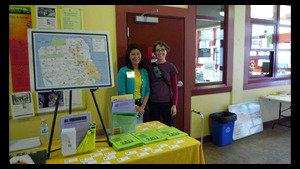 Free Elementary School Fair
Friends of Noe Valley Recreation Center will host their second free Elementary School Fair on Sunday, September 23, from 11 a.m. to 2:30 p.m.
Representatives from about 40 public, private and parochial schools in the southern portion of San Francisco will be on hand to answer questions and talk to curious parents.
During the fair, Parents for Public Schools will host three free workshops: Two will explain the public school lottery and enrollment process. The third is geared toward helping current public school parents market their schools. Workshops are first-come, first-serve. You can register on the www.noeschools.com website or from this newsletter. For the lottery workshop, register here, and for the marketing workshop, register here.
You can find more information like a map of area schools, school links, and information on the public school lottery process (including request statistics from last year) on our website, www.noeschools.com.
The fair is hosted by FNVRC, but this year we have already received the support of sponsors: Children's Day School, UrbanSitter.com and Stratford School. Thank you for helping boost all of our city's schools!
Upper Noe's celebrated Pacific Art summer camp comes to an end this week, with a final art exhibition on Thursday, August 2. Tots will take heart, though—-camp's end means the auditorium is open for play again Wednesdays from 1 to 2:30 p.m., Thursdays from 3 to 6 p.m. and Fridays 1 to 3 p.m. As always, availability on Saturday depends on if the space has been rented.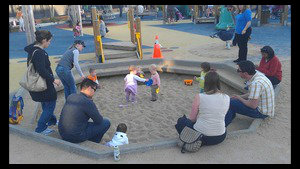 The playground sandbox got a fresh batch of sand in July, and our new sandbox cover should protect it from marauding nocturnal felines.
We need your help! The cover is taken off by parents on Sundays when the center is closed, but no one is putting it back on. Please help us by replacing the cover. Ideally a handful of neighbors could take on this responsibility, which will grow to two days starting August 20 when the center will also be closed Mondays.
---
---
• Help advise the city on what classes should be offered at the Upper Noe Rec Center. Serve a term on the Upper Noe Recreation Center's Community Recreation Council and help shape programming at the Center. A teen member is still needed! Please contact Cheryl Woltjen at 970-8061. The form is available on our website and at the center. Please either drop it off or mail it to: Cheryl Woltjen, UNRC, 295 Day Street, SF, 94131.
• Distribute our new Friends of NVRC postcard. This newsletter is distributed to nearly 1,000 "friends." Make sure interested neighbors know about our group by helping distribute our informational postcard around the neighborhood. Please email molly (at) noevalleyreccenter.com if you know of a good shop or cafe to distribute the postcards. Or you could help put them somewhere frequented by park users.
• Lead a new event. Are you interested in organizing a new event at the Center? Maybe a game night or movie night? Please let us know.
---
Community Events
August 7
National Night Out
5-8 p.m.
Recreation Center auditorium
Please join the San Francisco Police Department, Ingleside Police Station, the Ingleside Community Police Advisory Board (CPAB), Supervisor Scott Wiener and the community for the 29th annual "National Night Out," an event designed to raise crime prevention awareness, strengthen neighborhood spirit and unity, and foster community-police partnerships. Our officers will prepare hamburgers, hot dogs, beans, potato salad, cake, soda pop and more. It's all free, so bring the kids and meet the officers BEFORE you need them!
August 15
Community Recreation Council
7 p.m.
Recreation Center kitchen
Help shape programming and priorities at Upper Noe.
Outside the Center
August 23
Noe Valley Wine Walk
4-8 p.m.
24th Street between Chattanooga and Diamond
---
Thanks for your interest and support of your park! Please contact us with any questions or suggestions. Let us know about any community events you are planning at the park so we can promote them. Please forward this newsletter to your friends and neighbors who use the Noe Valley Recreation Center. We want this newsletter to help build the park community — please help us connect with members of the community.
Enjoy your Park!
Friends of the Noe Valley Recreation Center