Newsletter | July 2017
Day Streeter Plaque Dedication
Upper Noe Neighbors – July 19
Help Paint a Mural – July 22
Fall Registration – August 5
Summer Hours
---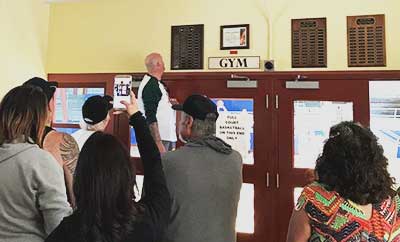 Day Streeter Plaque Dedication
Locals warmly refer to the playground they all shared growing up as Day Park or Day Street Park. On Saturday, July 8, a gathering of about twenty "Day Streeters" unveiled a new memorial plaque. It joins two others that hang in the lobby above the gym doors. They pay tribute to rec center patrons "born and raised" nearby. Many had spent their entire lives here according to Reed Harrington, the local who initiated the latest addition. Nameplates are added every few years.


Upper Noe Neighbors – July 19
Friends of the Urban Forest presents a plan to green the sidewalks along both sides of Church Street between 28th and 30th Streets. Supervisor Katy Tang explains HOME-SF, a voluntary program that introduces incentives to create new affordable housing. Isabel Wade presents Just One Tree, the initiative to increase urban food sustainability. Everyone is welcome. Refreshments will be served. Wednesday, July 19, 7-9 pm in the Rec Center auditorium.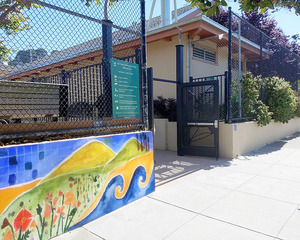 Help Paint a Mural – July 22
Come on out for a summer day of family fun and mural painting. Little Artistas leads artists of all ages in a community project to decorate the Day Street wall at the playground entrance! All materials, professional instruction and refreshments will be provided but donations of treats and drinks will be appreciated. Everyone, large or small, is welcome to try out artistic talents. Hosted by Upper Noe Neighbors, Friends of the Upper Noe Rec Center, Upper Noe Community Recreation Council and Little Artistas. Saturday, July 22 from 10 am to 4 pm.
Fall Registration August 5
Registration for Fall Activities begins Saturday, August 5 at 10 am. Add classes now to your online WishList and register for them all with one click. View the Fall Catalog and register online at www.sfreconline.org or stop by the Rec Center office to do so in person.
*Note that Jiu-Jitsu did not make it into the printed or PDF version of the catalog but is being offered at Upper Noe.
Rec Center hours include Mondays from 9 am – 5 pm through August 7.

Pickleball now has four courts for more fun. Tues and Thurs from 1:30 – 3:30. FREE

Check the Daily Schedule on our website for more info.

Open Gym
June 5 through August 5*:
Monday: 2:00 pm – 4:00 pm
Tuesday: 2:00 pm – 8:30 pm
Wednesday: 2:00 pm – 5:30 pm
Thursday: 2:00 pm – 8:30 pm
Friday: 2:00 pm – 5:30 pm
Saturday: 9:00 am – 4:30 pm
* Hours subject to change
Auditorium Free Play
June 6 through August 19th*:
Monday: 10:00 am – 4:00 pm
Tuesday: 10:00 am – 3:30 pm
Wednesday: 3:30 pm – 5:30 pm
Thursday: 10:00 am – 4:30 pm
Friday: 12:00 pm – 4:00 pm
Saturday*: 12:00 pm – 4:30 pm**
* Hours subject to change.
**Varies, depending on other activities.
---
Thanks for your interest and support! Please email info@noevalleyreccenter.com with any questions or suggestions. Share this newsletter to your friends and neighbors. Please help us to promote Upper Noe Recreation Center as your neighborhood center and to connect with all members of the community.
Enjoy your Park!
Chris Faust
Chair, Friends of the Noe Valley Recreation Center
info@noevalleyreccenter.com
www.NoeValleyRecCenter.com
Get citywide activity updates directly from Rec & Park. Sign up at sfrecpark.org/about/publications/