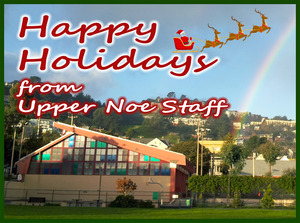 Dear Friends,

As we close out the year, we want to express sincere gratitude for all of your support of our beautiful rec center and for all of your participation in programs and activities here.

From our spectacular block party to school picnics, birthday parties and community meetings, to the daily gatherings in our vibrant playground and dog park, Upper Noe continues to provide us with a beautiful, functional, clean and safe community hub.
Your input helped push forward the year's major maintenance goals, the installation of new surfaces for our exterior basketball and tennis courts. Keep those comments coming and know that your participation in planning and stewardship activities is welcome.

Our program schedule remains robust, providing recreation for all ages from early morning tot play to family Zumba to late night basketball. We proudly cheer our recent champion teams. Girls' volleyball and both of our flag football teams recently took home trophies.

We look forward to seeing you at Upper Noe in 2020 and sharing another successful year of recreation and community engagement.


Fall recreational programs continue through December 20.
Winter Registration begins Saturday, December 14 at 10 a.m. Winter classes begins January 7.
Register at https://apm.activecommunities.com/sfrecpark/Home

Open Gym and Free Play hours will expand between Fall and Winter schedules, Dec 20 to Jan 4. Call for details or check our website http://uppernoerecreationcenter.com/wp/.

Holiday hours on December 24 and 31 are 9 a.m. to 5 p.m. and closed on Christmas and New Years Day. The park grounds will be open regular hours 6 a.m. – 10 p.m.

Dec 8 – Holiday Craft Fair
Harvey Milk Center for the Arts, 50 Scott Street, from 11 a.m. to 4 p.m. FREE. Shop for one of a kind unique holiday gifts from a variety of craft vendors. Plus popcorn, hot cider, a holiday photo booth and an interactive kids arts & crafts table.
For more information: https://sfrecpark.org/event/harvey-milk-center-for-the-arts-holiday-craft-fair/
---
Enjoy your Park!

Chris Faust
Chair, Friends of the Noe Valley Recreation Center
Friends of the Noe Valley Recreation Center provides equipment and support for our wonderful