Greetings Friends of the Noe Valley Rec Center
Here's the latest news about the Upper Noe Valley Rec Center. We are going to try to send these out monthly. Please contact us with news to include or concerns/comments about the park. We can pass them on to the park staff, and we hope to send back the replies to all of you. Stay tuned for an upcoming "Park Users" survey that we are going to be using to collect information for the City to use in planning future programming changes at the Rec Center. (Let us know if you want to volunteer to help make the survey happen!)
---
---
Join us for a Park Clean Up Day: March 21st Join your neighbors for chats, snacks and community involvement on March 21st, 9am-noon.

Help keep our newly-renovated Noe Valley Rec Center and Park clean! Enjoy time with your neighbors, some snacks and a bit of hard labor as we clean up Noe Valley Rec Center and Joby Dog Run. There will be a Park and Rec gardener working with the volunteers to help direct our efforts. Contact Laura Spanjian for more information: lspanjian@yahoo.com.

Friends of Upper Noe Dog Owners Group will be leading a clean up of Joby's Dog Run on March 21 beginning at 10 AM. For more information on the Joby's Dog Run portion of the day, contact Chris at chris@noevalleyreccenter.com.
---
Join the Rec and Park Department for a Neighborhood Community Meeting: March 17th, 7-8 PM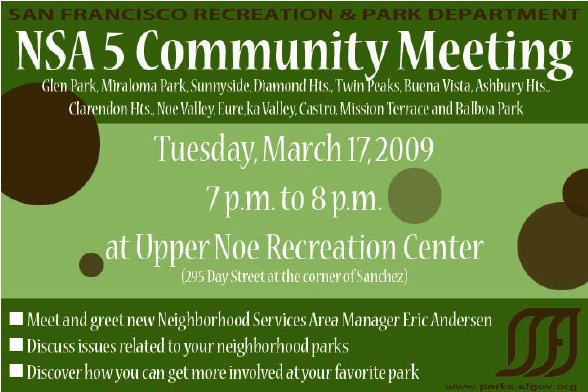 The Rec and Park Department is now offering quarterly meetings in each Neighborhood Service Area so that the public can become acquainted and discuss issues with key RPD staff members. The Upper Noe Rec Center is in "Neighborhood Service Area 5 (NSA5)" and our area's quarterly meeting is March 17th, 7-8 PM, hosted at Upper Noe Rec Center.

We recommend you attend these meetings for the opportunity to talk with the Park Section Supervisors who oversee gardening staff and help submit work orders for park repairs, the Custodial Section Supervisor, and the Recreation Section Supervisor. It is also likely that Rec and Park department will invite capital program staff on hand to talk about park projects (if applicable).

NSA 5 includes 42 different parks and open space areas: 29th & Diamond Open Space, Balboa Park, Berkeley Way Open Space, Billy Goat Hill, Buena Vista Park, Cayuga & Lamartine Mini Park, Clipper Terrace Community Garden, Corona Heights, Corwin Community Garden, Crags Court Garden, Diamond & Farnum Open Space, Dorothy Erskine Park, Douglass Playground, Duncan & Castro Open Space, Eureka Valley Branch Library, Eureka Valley Playground, Everson & Digby Lots, Geneva Avenue Strip, Geneva Carbarn, George Christopher Playground, Glen Park, Glen Park Branch Library, Joost & Baden Mini Park, Kite Hill, Miraloma Playground, Mt Olympus, Noe Valley Branch Library, Noe Valley Courts, O'shaughnessy Hollow, Peixotto Playground, Portola Open Space, Roosevelt & Henry Steps, Saturn Street Steps, Seward Mini Park, States Street Playground, Sunnyside Conservatory, Sunnyside Playground, Tank Hill, Topaz Open Space, Twin Peaks, Upper Noe Recreation Center, Walter Haas Playground

We urge all interested members of the community to attend these meetings and speak up about your park areas!

The following meetings will take place in March 2009:

* NSA5: March 17th, 7-8 PM, Upper Noe Rec Center
* NSA 4: March 25th, 6-7 PM, Potrero Hill Rec Center

Click Here to Visit the Neighborhood Parks Council website with information on the Park and Rec Neighborhood Service Area Meetings
---
Meeting with Eric Anderson, New regional manager for San Francisco Rec and Park departmentIn late February the Friends of Noe Valley stewardship committee met with Eric Anderson, the recently hired regional manager for the Rec and Park department. As regional manager, he oversees the Upper Noe Valley Rec Center, as well as dozens of other small and large park facilities.

The meeting started with a focus on an introduction to the Friends of Noe Valley Rec Center and how we are interested in facilitating two-way communication between the Rec and Park staff and the community that uses the Noe Valley Rec Center.

Eric gave the group an update on the Rec and Park budget cuts and how they might affect the Rec Center. Many Rec and Park facilities (including several "Clubhouses") will be closed due to the budget cut, and many staff will be laid off. The remaining staff are going to be consolidated at the "full service rec centers" (which is what Noe Valley Rec Center is), and so the current expectation is that there will not be a drastic cut back in the hours of operation for the Noe Valley Rec Center, but there many be some staffing changes. [Since meeting with Eric, the layoffs have occurred, and at least one staff person who worked at the Rec Center was laid off.]

The stewardship committee also gave Eric a long list of concerns about the park and areas where we had ideas for improvement. We also offered our help in getting the word out about changes to the park, doing surveys to find out what the community wants in the community center, and helping support the park staff's efforts to secure funding and staffing for the center. [Stay tuned for how the Friends of Noe Valley Rec Center is going to communicate with city officials in the coming weeks about the budget cuts affecting our park…]

Click here to see the February 13th Park and Rec Budget meeting presentation
---
Open Space Work-Shop on March 24th, 6-8pmOpen Space Work-Shop on March 24th, 6-8pm

The Neighborhood Parks Council invites you to your upcoming area workshop on open space!

Tuesday, March 24th, 6-8 pm
Upper Noe Rec Center, Day Street @ Sanchez
Hosted by the Friends of Upper Noe Rec and Friends of Noe Valley

This meeting is part of a series of approximately 20 community workshops led by the Neighborhood Parks Council (NPC) and the City's Open Space Team. The works hops will solicit the public's vision and priorities for the future of open space in San Francisco.

This community engagement process seeks to initiate creative thinking about key issues impacting existing and future open space in San Francisco neighborhoods. Community input will inform open space policy for the city of San Francisco. NPC also hopes to encourage participants to serve as advocates for quality open space in the city.

Click here for the full workshop schedule and meeting details.
---
Update from Lisa Seitz Gruwell, new Rec and Park Education, Outreach and Customer Service ManagerRecently Alexandra Torre spoke with Lisa Seitz Gruwell, who is the new Rec and Park education, outreach and customer service manager, and she informed her that last week they rolled out new hours and staffing for all full-service rec centers (include Noe Valley Rec Center).

Staffing: Lisa said that they expect Noe Valley Rec Center will have 4 full time employees.

Hours: Lisa said the new rec center hours will be Tu-Fri, 9am-9pm; Sa-Mo:
9am-5pm. The goal with this is that the buildings would be open all those
hours. [It is not clear whether the buildings will be open only for Rec and
Park sponsored programs or also for "open play/use" hours. FoNVRC is
advocating for a good balance.]

Programming: Lisa said that they are working on changing the process of
signing up for a program, determining what kinds and how many programs will
be scheduled. FoNVRC recognizes that many of you have had some concerns
about the quality of the programming as well as how challenging the process
and access has been. We have passed this along, and more information will
follow as soon as changes are announced.

Rental: Lisa said that a new Permit and Reservations Director has been hired as of last week, and that she expects the permits process to receive some improvements in the near future.
---
Looking for Park Contact Information?The Friends of Noe Valley Rec Center website includes contact information for Noe Valley Rec Center staff. The Contact page also has contacts and links to key City of San Francisco Park and Rec Department key resources and phone numbers related to parks, such as Permits and Reservations, Reporting a Problem, or Programming signups (www.sfRecOnline.org).

Click here for contact infromation for Noe Valley Rec Center staff and resources
---
Plant Trees on Arbor Day on March 14th — 9 AM – 2 PMArbor Day Volunteer Opportunity
Saturday, March 14th
9 am –2 pm

Please join the Department of Public Works and all of its community partners on Arbor Day, Saturday, March 14th from 9am to 2 pm as we celebrate the completion of 25,000 trees being planted in San Francisco. The kickoff celebration and ongoing community events will be held on Sunset Boulevard between Pacheco and Ortega. Volunteer activities include: planting 300 trees along Sunset Blvd. , doing tree maintenance, creating a native plant garden, and much more! Be sure to stick around to enjoy the Green Resource Fair: learn how to green your home and city; check out youth activities, tree inspired story time, music, food and more.
---
Thanks for your interest and support of Your Park! Please contact us with any questions or suggestions. Please forward this newsletter to friends who use the Noe Valley Rec Center. We want this newsletter to help build the park community — please help us connect with members of the community.
Thanks,
Alexandra Torre (info@noevalleyreccenter.com) and Molly Sterkel (molly@noevalleyreccenter.com)
Friends of the Noe Valley Rec Center
www.noevalleyreccenter.com