April Rains Down Opportunity
LadyBug Gardeners Desperately Needed
Building a Community Recreation Council
Bay to Boulders Roll into Upper Noe
Theater Games Need Players
Pre-Ballet Camp for Tots at Harvey Milk
Volunteer Opportunities
---
LadyBug Gardeners Desperately Needed
The LadyBug Gardeners need two volunteers who can commit to joining them on a regular basis once a month.
The LadyBugs are crucial to the landscape of the park: Budget cuts have forced the parks department to slash the number of "gardener hours" at our facility. The gardener does not have enough hours to maintain all the beds and park areas. Maintenance of the baseball field absorbs much of the gardener's time, so other areas are lower priorities. If we do not have a volunteer program, our park will not be as clean and well-kept.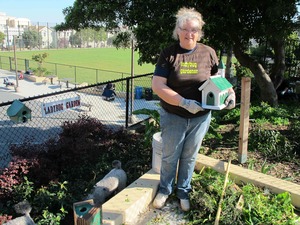 Volunteer gardening programs require the supervision of a department gardener; in turn the department requires us to have a regular handful of volunteers to justify the expense.
The regular work day is the second Saturday of each month from 9 a.m. to noon.
With guidance from lead LadyBug Joan Lionberger (pictured) volunteer gardeners help weed and clean the beds. If you can make this monthly commitment, please email kate@noevalleyreccenter.com.
Building a Community Recreation Council
Many people have suggestions or complaints about their neighborhood parks, but few know that they can be the change they want to see.
This summer marks the second anniversary of the Department of Recreation and Parks massive reorganization, and one of its most visible additions has been Community Recreation Councils.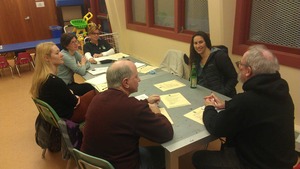 The idea is to have a council comprised of staff and neighbors at each center. Each group's role is to shape programming, address site issues and spread the word in the community about what's going on at the local rec center.
"The CRC is the best initiative yet by Rec and Park to bring local community into the decision-making process," said Upper Noe CRC member Chris Faust. "I've never seen anything like this so far."
Faust has represented Joby's Dog Run for Friends of Noe Valley Recreation Center for about five years. He joined the CRC when it formed in November of 2011.
The staff on Upper Noe's council includes Facility Coordinator Cheryl Woltjen and Program Coordinator Levi Johnson. Both have worked for the department for a combined 23 years, and they know the ins and outs of programming, facility maintenance and Rec and Park priorities.
"These are things we wouldn't know as a community," Faust said.
The citizens on the committee have a pulse on neighborhood needs and so bring information the department staff might not know, Faust said. His neighbors will mention they want more yoga or Zumba, and he can tell them what is happening now and what will be scheduled for the future. He also encourages them to sign up: classes are cancelled if enrollment is low.
In fact, four classes at Upper Noe may need to fold due to underenrollment, said Woltjen. All are classes on Friday: the youth and adult theater classes, the youth cooking class and Express It, a toddler arts class that can include theater, dance, art and poetry.
Though Faust and CRC member Kate Haug have both been active with Friends of Noe Valley Recreation Center for the past five years, the council also includes three members—Richard Hildreth, Alison Muir and Karen Spira—who bring fresh ideas and new ways of solving problems to the table. It was Muir who facilitated the March movie night and Spira who found a solution to the sandbox problem. Hildreth lines up Tot Rock music and arranges all audio and visual needs. Friends of Noe Valley Recreation Center's Kate Haug would like to see more members, too.
"I believe it would be beneficial for parents who are PTA members at schools near rec centers to join the CRCs to help make a bridge between school programs and Recreation and Parks programs," she said.
A quick survey of nearby recreation centers revealed that not one had its CRC running. Bernal Heights was operating briefly, said Facility Coordinator Atajinae Jarreau, but it has stopped for lack of participation.
"We're recruiting people," she said.
Oskar Rosas of Glen Park Recreation Center is recruiting, too, he said.
Upper Noe's CRC meets once a month, and it's actually quite fun, Faust said. "This is not your typical stodgy committee," he said. See our newsletters and website for more information.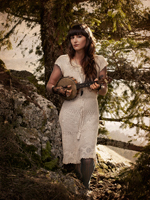 Bay to Boulders Roll into Upper Noe
They use pseudonyms, they wear costumes, they morph into other bands, but Bay to Boulders is the real deal when it comes to Americana music, and they'll be showing it all Saturday, April 14, from 9 to 11 a.m. at this month's tot concert.
Having played at the Noe Valley Farmer's Market, the band has some idea of how children enjoy their music, said Eric Jonasson, who plays Dobro guitar for the trio.
"A lot of them come up and stare at us," he said. "I think we're fun for them to look at, and that's their first reaction."
And why not? With banjo player Alle Emershaw (Owly Mae) dressed like a hillbilly Mary Poppins, accordian player Naomi Husaruk (Cat Balou) wearing a square dancing skirt, and Jonaason (Jon Eric) in a bold western shirt, the three make quite an impression.
Their sound—an acoustic three-part harmony—falls into that category of old-time music, and they play mostly traditional songs. Still, they are working on original songs in the same style and may play one or two in April, Jonasson said.
The three met in Southern California's Joshua Tree, where Husarek and Jonasson have one getaway home and Emershaw has another. Not only did they realize they shared a love of music, they also all had a home base in the Bay Area. Now, two years later, they continue to travel back and forth between the boulder-strewn national park and the Bay Area. Hence the name of the band.
They have two other incarnations. In Steer the Stars, they play only original music using instruments ranging from guitar to laptop loops. In Thee Olde Company, they stick to traditional Country Western music a la Waylon Jennings.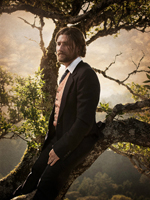 "There's a lot of drinking and heartbreak," he said.
As Bay to Boulders, the band plays around the city, sometimes busking, sometimes at the food truck farmer's market called Off the Grid and also at small venues like El Rio.
"We've had a really positive reaction so far," Jonasson said.
Tot Rock is sponsored by The Friends of Noe Valley Recreation Center through community donations. All families with children under the age of 5 welcome.
Upper Noe's Friday afternoon theater class for tweens, "So You Think You Can Act," is so short of enrolled students that the center may be forced to cancel it, said Facility Coordinator Cheryl Woltjen.
Woltjen is trying to make the class a drop-in option, but she hopes more children will enroll now to keep the program going.
"It's more than just skits," she said. "The teacher is really amazing."
Students learn the fundamentals of acting and storytelling through theater games and a collaborative group project that brings to life a classic story. More than simply theater, the class teaches students to work collaboratively and support each other.
Though the printed age range for participants is 6 to 10, there is room to enroll interested children who are older or slightly younger, Woltjen said.
Earlier this season, the center had to drop Taster's Choice, the Saturday girls' sports buffet for tweens. Woltjen hopes So You Think You Can Act will avoid the same fate.
Pre-Ballet Camp for Tots at Harvey Milk
Looking for a nearby tot camp this summer? Have your 4- or 5-year-old take a spin at ballet. Harvey Milk Arts Center at 50 Scott Street (accessible by the J-Church and 24-Divisadero) will offer Pre-Ballet Mini Dance Camp for three mornings at the end of May.
Each day will begin with dance and will include snack, a related craft and story time. Lessons will develop imagination, rhythm, coordination, attention, flexibility, agility and posture.
At the end of the final day, students will perform a mini-recital for family and friends.
The camp will run from 9:30 a.m. to noon, Tuesday to Thursday, May 29 to 31. (Parents are asked to bring a snack and a drink, and ballet shoes are recommended. Please arrive at 9 a.m. on the first day of camp to fill out the Welcome Packet.) Visit www.sfreconline.com or call 415-554-8742 for more information.
---
Serve as a greeter for the free concerts. The Friends of Noe Valley Rec Center need a "friend" to help us greet families during our monthly free concert. Let them know about our mailing list and introduce them to our small group. Our greeters hand out flyers and accept donations for the concert series. The next opportunity will be April 14 from 9 to 11 a.m. Even volunteering for one hour would make a big difference!
• Help advise the city on what classes should be offered at the Upper Noe Rec Center. Serve a term on the Upper Noe Recreation Center's Community Recreation Council and help shape programming at the Center. A teen member is still needed! Please contact Cheryl Woltjen at 970-8061. The form is available on our website and at the center. Please either drop it off or mail it to: Cheryl Woltjen, UNRC, 295 Day Street, SF, 94131.
• Distribute our new Friends of NVRC postcard. This newsletter is distributed to nearly 1,000 "friends." Make sure interested neighbors know about our group by helping distribute our informational postcard around the neighborhood. Please email molly (at) noevalleyreccenter.com if you know of a good shop or cafe to distribute the postcards. Or you could help put them somewhere frequented by park users.
• Lead a new event. Are you interested in organizing a new event at the Center? Maybe a game night or movie night? Please let us know.
• Develop a new plan for the sandbox area or some other park addition. If you know of a person who wants to help re-imagine and re-engineer the sandbox area, please let us know. We are also looking for someone who could add a new creative addition to the park. We have limited space, but we'd love to see a new activity area or artistic addition to the park. The Friends group is looking for suggestions.
• Garden at the Park. Help keep the park beautiful by volunteering with the Ladybug Gardeners on the second Saturday of every month. All ages welcome, no experience necessary. Even an hour would be a big help! Please contact us at info (at) noevalleyreccenter.com.
---
Community Events
April 14
Tot Concert
9 a.m. to noon
Recreation Center auditorium
Bring your under-fives and groove to the twang of Bay to Boulders!
April 14
Ladybug Gardeners
9 a.m. to noon
Recreation Center grounds
Turn weeds into plants each month with the Ladybug Gardeners. Please bring gloves and a trowel. Lead Ladybug Joan Lionberger has gloves, projects and things to see for the kids, too.
April 18
Community Recreation Council
7 p.m.
Recreation Center kitchen
Help shape programming and priorities at Upper Noe
---
Thanks for your interest and support of your park! Please contact us with any questions or suggestions. Let us know about any community events you are planning at the park so we can promote them. Please forward this newsletter to your friends and neighbors who use the Noe Valley Recreation Center. We want this newsletter to help build the park community — please help us connect with members of the community.
Enjoy your Park!
Molly Sterkel (molly@noevalleyreccenter.com)
Friends of the Noe Valley Recreation Center
Friends of Noe Valley Recreation Center  www.NoeValleyRecCenter.com